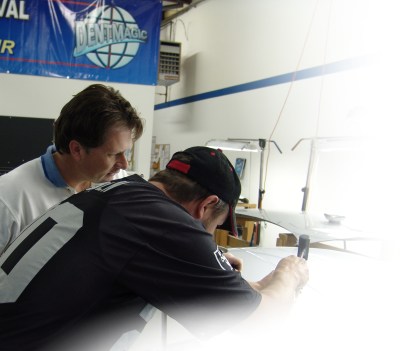 Try Before You Buy -- Paintless Dent Repair Training Offer
Available exclusively from Dent Magic PDR Tools and Training, Inc. is our unique "Try Before You Buy" option. Get some Paintless Dent Removal Training, use the tools, see customers served and get a real taste of this remarkable business opportunity!
Check out our PDR Training Packages
Call for more details to get started! 1-417-724-8558
Get the Skills you Need to Become a PDR Professional...FROM a PDR Professional.
Like any craft, paintless dent repair and removal requires patience, practice and a good trainer to perfect. Dent Magic Tools, is highly experienced in all levels of paintless dent repair, and we'll utilize our wealth of hands-on PDR experience to train you in every aspect of the business in our climate controlled facility in the heart of the Ozarks. We've spent years establishing dealer repair routes, retail shops and hail damage/catastrophe teams and our goal is to pass that knowledge and experience to you.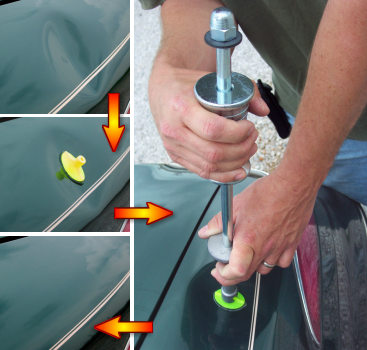 Small Class Sizes = Personalized Training
Just as every PDR tool is different, each person training for PDR has a different skill level. That's why each of our students gets one-on-one interaction. We never schedule more than 3 students per class session (unless a specific group wants to train together).
Your Success is Our Success!
As we design, manufacture and sell our own PDR tools we are investing in your success. All of the tools that we sell are covered by a lifetime warranty . If you break a tool – simply return it for a warranty replacement. You just cover the shipping and we send you a brand new tool.
TOLL-FREE PDR Tech Support
As a Dent Magic alumnus, the help doesn't stop when training courses are over. Dent Magic professionals are here to assist you by providing ongoing training support. Any time you need on-the-field advice, call us for answers to all your questions. We are always ready to serve you & your paintless dent repair & dent removal training needs!
Advanced Tech Training
After learning the PDR Training basics, are you looking to expand into specialized areas? We offer short advanced level classes. Call us to discuss your particular needs.
Money Back Guarantee = Nothing to Lose
We are so confident as trainers that we can teach you to remove dents by the end of your Paintless Dent Repair Training courses, if you can't, we'll give you your MONEY BACK - GUARANTEED!