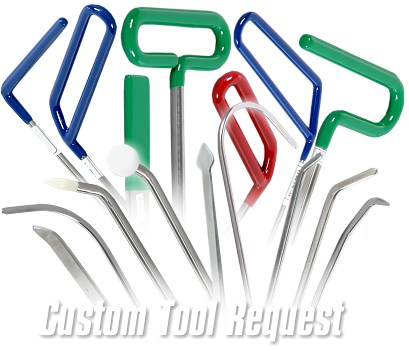 Pick A Tip, Pick A Handle, Pick a Diameter, IT'S AS EASY AS THAT!
Dent Magic Custom Tool Request Form
Ready in ONE WEEK!*
Do you have a unique situation that requires a custom designed PDR tool? Dent Magic Tools has you covered. We can produce it to your specs. Whether you want one tool or if you need multiple sets duplicated, we can do it. We only offer one type of steel (Heat Treated Stainless), this allows us to give you a lifetime warranty on all of your requests. Please send us your specifications and we will have your tool(s) ready in one week. Please complete the custom tool request form below. We will contact you with a price quote and if we need more information.
*Custom tools can be ready in as little as one week. Times may vary depending upon the materials used and quantities ordered.