Special #1 75pc Ultimate Master Set
Special Price
$2,499.99
Reg Price
$4,527.71
75 Piece Ultimate Master Tool Set
This set contains 48 of our #1 Seller's from the Original Master Set.
CAN'T BEAT THIS !!
75 Piece Ultimate Master Set, FREE Glue Puller Pro Package, FREE Accessory Kit, FREE Mini Lifter AND FREE PC-LED130 Work Light!! .
 75 Premium Tools
$2499.00  
 Set Discounted $462 From Individual Prices
 A-36 Glue Puller Pro I
$299.00 
 A-62 Accessory Kit
$269.99 
 A-76 Mini Lifter
$124.99 
 PC LED 130 LED Light
$199.99 

 Total Individually

$3394.95  

SAVE OVER
$900 OFF
Purchasing Separately!
You pay only: 
$2499.99 

 
ALSO INCLUDED ARE 11 SPECIALTY TOOLS - 2-soft tips, 1-screw on tip, 2-bendable tools, 3-door edge tools and one of our most popular 24 position ratcheting tool and 2-90° hail rods.
 
MOST POPULAR TOOLS- An additional 12 tools used by our technicians AND most requested from our Distributors

BIG SELECTION-

A mixed selection of 5 whale tails, 4 tip styles at the most useful lengths.

 

AMERICAN MADE-

Guaranteed to be the highest Quality at the best price, and all manufactured here at our location in the USA.
 
Please Click on a Code Number Below to View Tool Details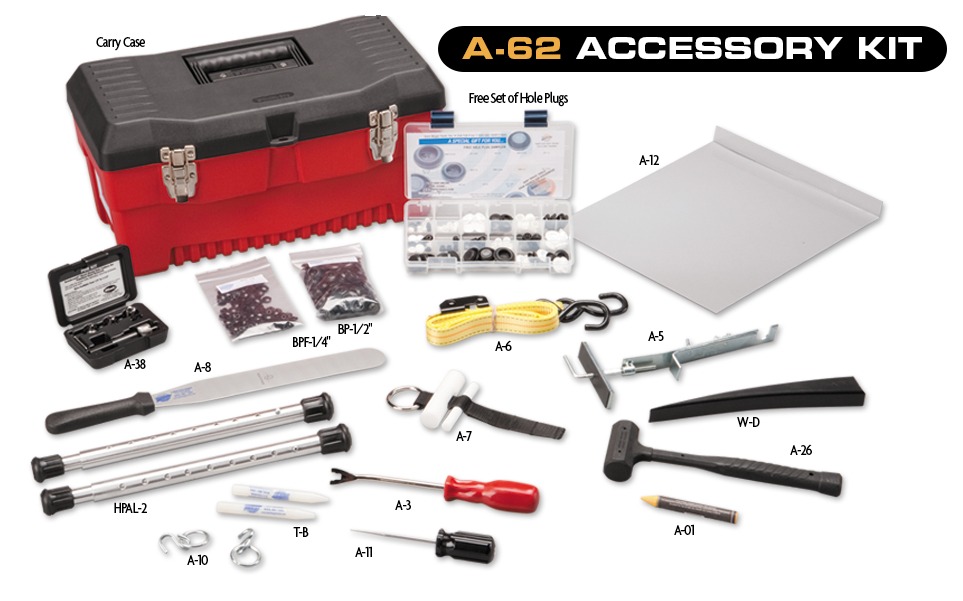 Our Accessory Kit Contains all the necessary items you need to get started in the PDR field.
Hpal-2 hood props and a-6 tie down to secure hood in place.

A-5 Door Jammer to secure door. Clip remover, hole-cutter, hammer, Tap downs, Roof lever, Glue Cutter, Window Wedge, Window Guard, and an assortment of hole plugs all in a high quality carrying case.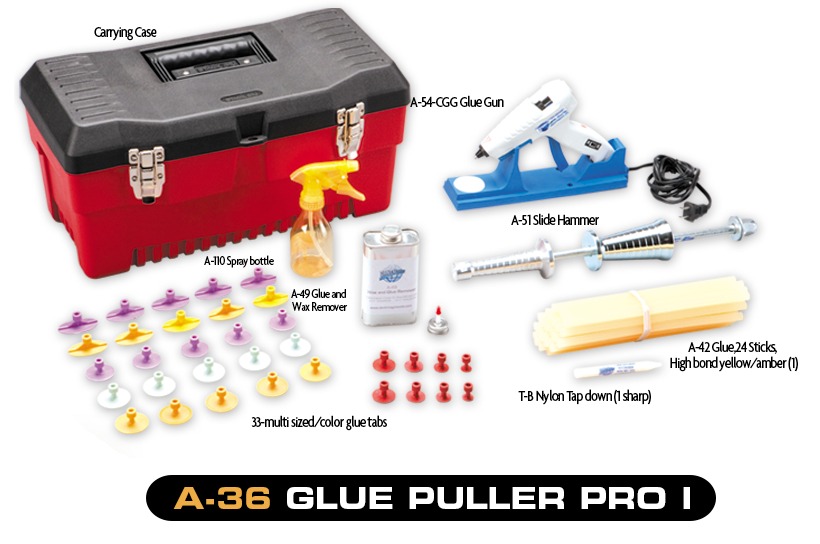 The A-36 Glue Puller Pro I contains 33 of the most common glue tabs that provide multiple pulls.
Enough glue for a minimum of 200 dents.

A Deluxe cordless glue gun makes working on rails and sail a snap - 110 volt.

Tap Down included when over pull occurs.

Slide Hammer is manufactured here in the USA to spec. and perfectly plated, a spring washer attached to the nut to remove hand shock.

8 ounces of surface prep and glue remover included with spray bottle.

Case with tray to hold slide hammer and tabs.
 

 

The Aluminum mini lifter works great when you need to hold the panel secure to get the hard pull.

 

The set contains our most popular light (The Portable PC-LED-130).

 

 
 
The Ultimate Denttool Selection!
Don't Forget to Checkout our PDR Training Specials that can be added with this set.
Check items to add to the cart or